For non-CIS countries: registering on the platform is only possible for legal entities (LLCs, etc.). If you are registered as a sole proprietor, you need to start a company. Sole proprietors, except sole proprietors from Turkey, can't register on the platform.
Sign Up #
When filling in the fields, use only Latin or Cyrillic letters.
Go to the sign-in page and click Sign up.


Registration is not possible for companies from countries on the sanctions list: Congo, Cuba, Iran, Libya, North Korea, Palestine, Sudan, Venezuela, Syria, Zimbabwe, Yemen.

Create your Ozon ID or sign in if you already have it: delete the Russian "+7" international calling code and start with the code for your country. Start typing with numbers, the "+" sign will be added automatically. Click Sign in.


Enter your email address and click Get the code. You will receive a verification code sent to that address. Copy and paste it to the corresponding field.

Do not use an email address ending in .co or .su because we cannot register it in the system.

You will receive another verification code via SMS or flash-call to your phone number. Enter it and click Sign up.

In the "Complete registration" window, choose the country you will be selling products from.


For a Belarus or Kazakhstan company fill in the legal name and legal address in Russian, other fields in English.


Enter your organization number:
UNP — for Belarus;
IIN — for Kazakhstan;
ITN — for Kyrgyzstan;
UNN — for Armenia;
ITN (Vergi Kimlik NO) — for Turkey.
Provide your company's legal name (reflecting what is in your documents, use only latin letters).

Enter the name of the store that customers will see. You can change it later in the account settings.

Make sure the email field contains the email you will use for further communications with Ozon. Click Submit.
Activate your account #
In your account settings fill in the fields in the sections marked with a warning sign. If you don't have a patronymic name, type a dash in the corresponding field.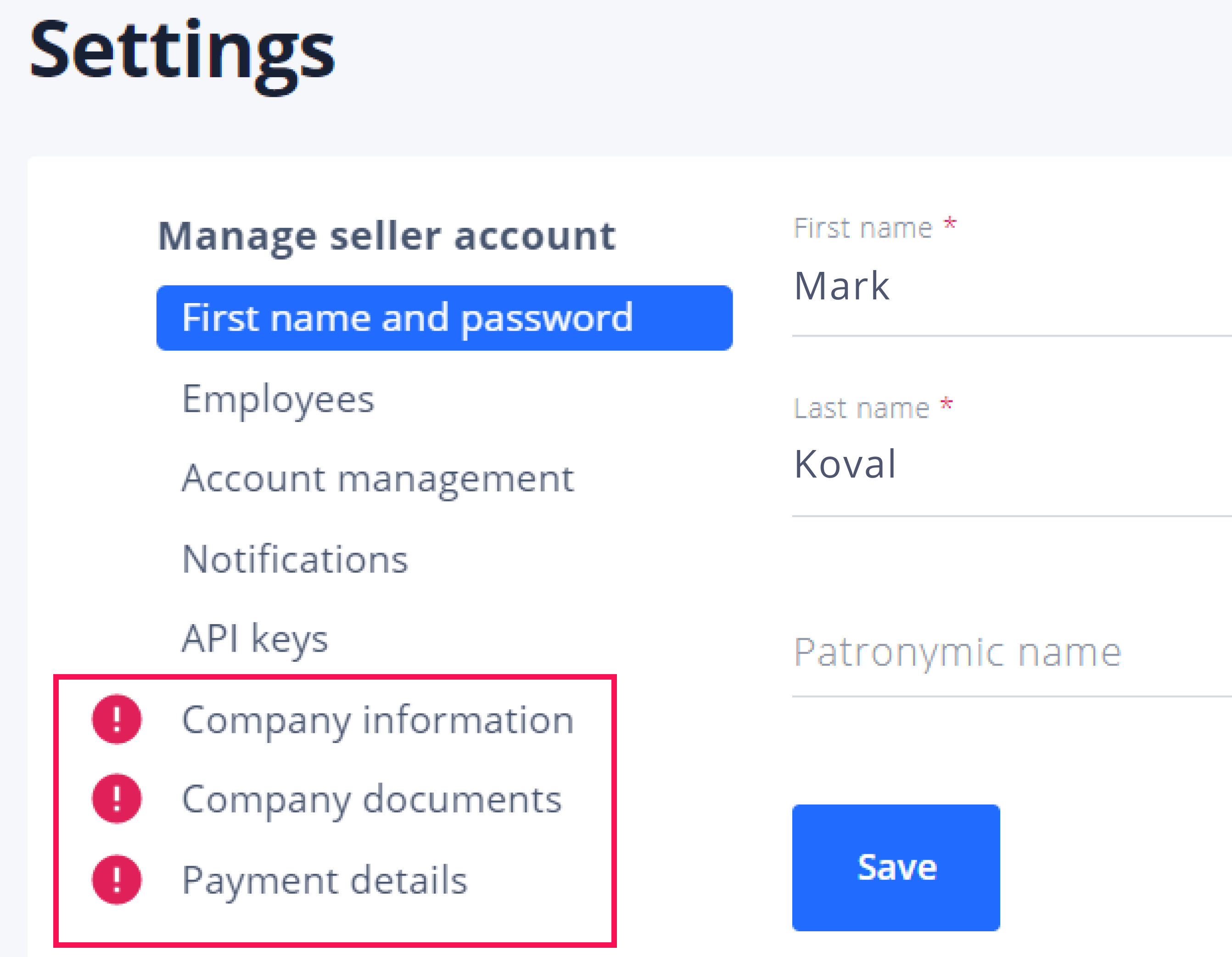 Company information #
In the Company information section, fill in the following fields:
Full name of the company. This is the name that is stated in the company register documents. Please fill in this field in English.
Address. The field is filled in without specifying country and city. You only need to specify the street name and the house or building number. Do not specify region, province, city or district in this field. Please fill in this field in English. Maximum number of characters is 50.
Country and city. These details should be filled in according to the company's registration documents. Select the country and city from the drop-down list or add them manually.


To change the country after saving your settings, go through the registration process once again.
Required company documents #
This is a mandatory section. To be able to submit your account for approval, upload one of the documents from the list below to the Company Documents section in your account.
In the Company Documents section, upload one of the following documents as PDF, JPEG or PNG files.
An extract from the Trade Register about the specific legal entity.
Certificate of Incorporation.
Another document containing registration number.
The size of a loaded document may not exceed 32 MB.
Check out the documents for your country:
If your country is not on the list, please follow the general guidelines. Provide the original documents.
Payment details #
Fill in the main fields in the Payment details section:
Account number. Receiving bank account number. Please fill this field in without using special characters (>? /.,-), spaces and Cyrillic letters. The number of characters should be between 6 and 34. For accounts in the IBAN format, the number of characters should be between 13 and 34.

SWIFT. Identification code of the receiving bank.

Once you specify the SWIFT-code, all the necessary information about the recipient bank will be added automatically.
If you enter an incorrect or non-existent SWIFT-code, you will receive an error message. To continue the registration process, enter a valid SWIFT-code or the SWIFT-code of a different bank for receiving payments.
Currency. Currency of mutual settlements according to the commission agreement with Ozon.
Depending on your country, the currency of mutual payments may be different.
Belarus: BYN/RUB;
Kazakhstan: KZT/RUB;
Kyrgyzstan — KGS;
Armenia — RUB;
China: USD/CNY/RUB;
Turkey: USD/RUB;
Europe: EUR/RUB;
Other countries: USD/RUB.
When choosing Russian rubles (RUB) as the currency of mutual payments, fill in additional fields in the "Payment details" section:
BIK of the bank. Bank Identification Code, contains digits only.
Correspondent account. Always starts with «30111» and contains digits only.
Bank name. The name of correspondent bank, correspondent account holder. The Bank name should be written in Cyrillic letters, you can use numbers from 1 to 10.
Bank address. The address of the correspondent bank should be written in Cyrillic letters, you can use numbers from 1 to 10.
You can ask the beneficiary bank for the payment details of the correspondent bank.
Click Submit for approval. You will be informed of your account activation by email one business day later.
Possible issues and troubleshooting #
I haven't received an activation email #
Check your spam folder: the email could have ended up there. If the activation email is not in your spam folder, contact our support team.
I've received a rejection email #
If there are incorrect details in your personal account, its activation may be rejected. Let us know if some details require replacement and attach the necessary documents to your message. If your account has been blocked, and you are not sure about the reasons, contact us at marketplace.crossborder@ozon.ru.
Learn more about rejection reasons
Restoring access to your personal account #
If you forgot your password and lost access to your email, you still can restore access to your Ozon account:
Contact our support team at marketplace.crossborder@ozon.ru.

In your email, please specify:

your company name and its business entity type;
the email address that needs to be changed, if there are several accounts created for your company;
the email address to which you want us to send the recovery link.

We recommend using the email address that you have registered with your full legal name and access to which can be restored by phone number. Do not use an address that ends in .co or. su: unfortunately, we won't be able to register it in the system.

Attach the following to your email:

a power of attorney copy, if you act under power of attorney;
your passport copy;
a photo of yourself holding your passport. Your face and your passport details should be clearly visible.

After verification, we will send the recovery link to the email address specified in your message.

Check your email and follow the link to restore the access.

Contact our support service to link your personal account to the new email and use it to log in to the account.
Next Steps #