To make the product appear in search and categories, you need to index it. The index is a specialized database that stores information about each product in an orderly manner. There are mandatory attributes that affect indexing for search. If the required product attributes are empty or not filled in, the product won't be displayed in search.
The product is sent for indexing automatically after moderation if it was created from scratch or updated. It's also indexed every night, even if it wasn't edited.
Indexing lasts about an hour, after that the changes will appear in search and categories.
If some errors occur during the indexing process, the product won't appear in search, and customers won't be able to find it. With the indexing error report you can check if all products are indexed. If some products aren't, you'll find the reasons and ways to fix them in the report.
Report downloading #
In your personal account, go to the Analytics → Reports → Indexing errors and click Download.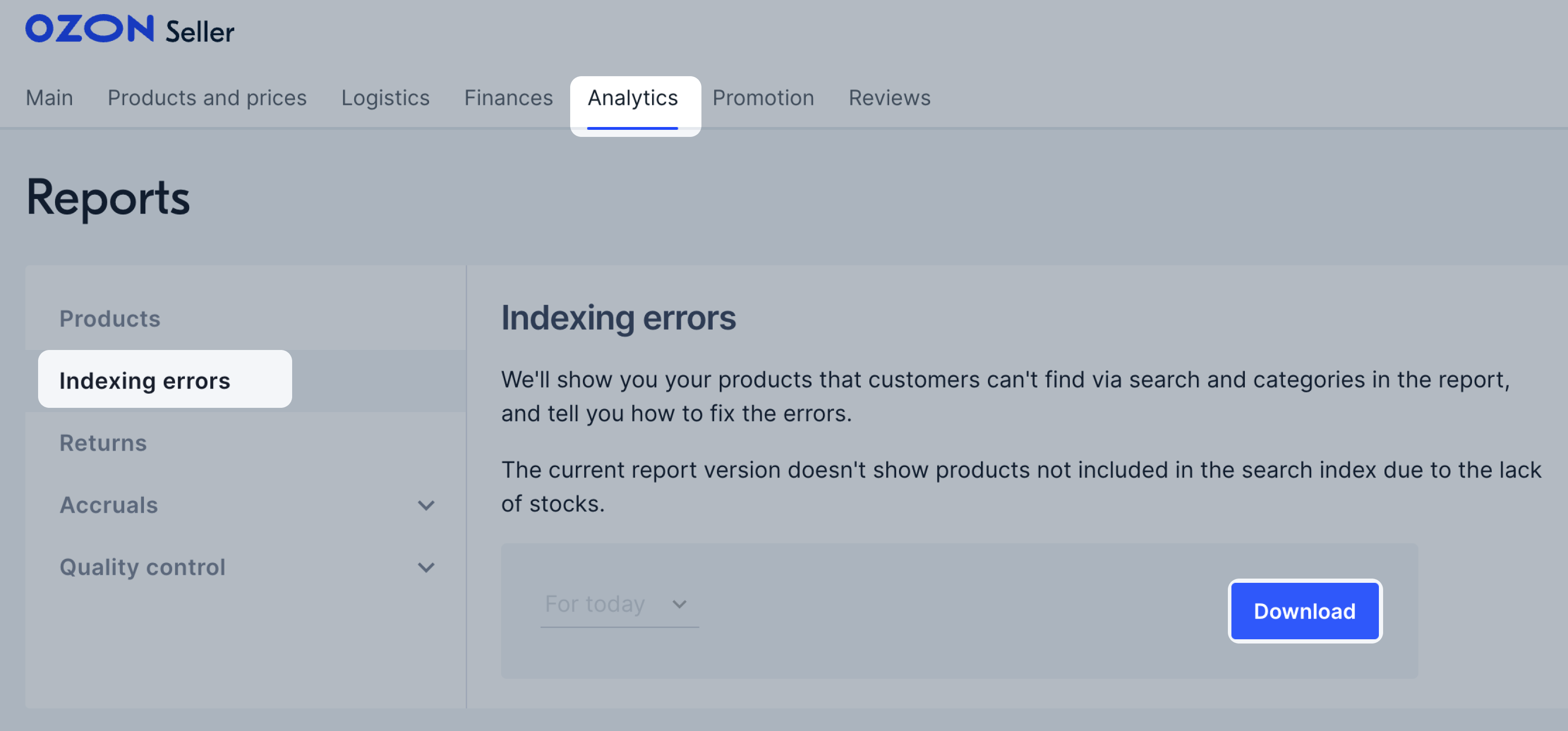 Report content #
SKU and Product IDs,
sales scheme,
the last indexing date and time,
error description.
Possible errors and their solution #
| Error | Solution |
| --- | --- |
| Errors when creating a product | The product didn't load due to errors. Go to Products and prices → Manage Inventory → Declined by Moderation section, check the Status field to see what errors occurred, fix them, and send the product for moderation. |
| Bad description | The product appeared on the website, but wasn't indexed due to gaps. Go to Products and prices → Manage Inventory → Declined by Moderation section, check the Status field to see what errors occurred, fix them, and send the product for moderation. |
| The Model field is empty | Fill in the Model field and save the product. |
| No photos | Upload photos and save the product. |
| No name | Enter the product name and save it. |
| No price | Enter the price and save the product. |
| The product is out of stock for more than 30 days | Replenish stocks, and the PDP will be indexed again. |
If there are products in the report that you don't plan to sell anymore, move them to the archive. Such products won't be included in the report.

How to work with the archive