How the Ozon partner program works #
We enlist companies that provide services in placement on Ozon, logistics, advertising, content creation, and other related areas. We certify them according to our standards and offer sellers to use their services.
For partners, the program provides an opportunity to find new customers and gain extra profit. For sellers, it is a way to launch sales on Ozon faster, establish warehouse storage and deliveries, build advertising strategies, and pick relevant products.
All our partners are divided into two categories: technology and service once.
Technology partners help sellers get started. Their services are focused on working inside the Ozon personal account.
Learn more about technology partners
Service partners specialize in additional services: logistics, content, advertising, and analytics.
Learn more about service partners
How we choose partners and measure the quality of services #
Ozon tries to make sure that sellers are satisfied with the quality of the partners' work and selects them carefully:
tests partners for knowledge of Ozon tools, studies customer reviews, evaluates their experience and portfolio;
monitors the service quality through statistics and surveys.
All partners undergo regular certification. Certification is an online test that covers all aspects of working with the platform, including such things as: work with products, logistics settings, and marketing tools. The initial certification is carried out before the signing of the partnership agreement. A minimum of three employees are required to complete the testing. After certification companies enter to a test period, which lasts for 3 months. During this time, we monitor the partner's performance indicators:
the total products turnover from the seller's first sale;
the number of new, ready-to-sell and selling sellers.
After that, we re-certify the partners. Each subsequent certification takes place every six months.
After certification, companies receive an official Ozon document. It confirms that we regard the company as our official business partner.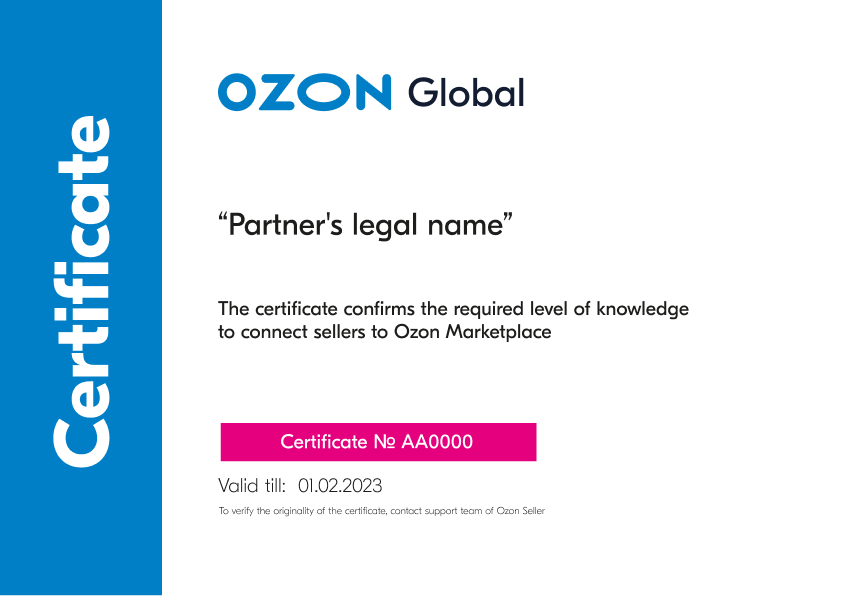 Prior to starting cooperation, the seller can ask the partner to provide an Ozon certificate. To verify its authenticity, you need to contact Ozon Seller support service and specify the certificate number in the message.
Ozon technology partners #
Technology partners are companies that can quickly connect the seller to Ozon and help with process management in the first months of sales.
Technology partners categories:
marketplace entry: product cards upload, collaborative selection of the assortment, consultations on the sales scheme and supply process adustment;
managing placement on Ozon: updating the assortment, working with reviews, and helping to increase sales.
You can contact partners if the seller:
wants to start selling on Ozon, upload products, and pass moderation;
has already entered the marketplace, but wants to better understand the sales patterns;
plans to promote products on Ozon and wants to learn more about the available tools and tariffs.
Ozon service partners #
Service partners are specialized companies that provide services in the same service category. They have been cooperating with marketplaces for a long time and know all the subtleties of working on them. For example, they:
are familiar with the Ozon requirements for product packaging, assembly, and transportation;
are able to analyze sales in the seller's personal account;
have a command of the promotion tools on the marketplace.
Service partners categories:
logistics,
content creation,
analytics,
integration solutions,
orders storage and packaging,
promotion and advertising.
You can contact service partners if you:
need a carrier who is familiar with the Ozon requirements;
need to take high-quality product photos and develop visual design of product description cards in your personal account;
want to get sales analytics;
need to protect your brand and register a trademark.
Services types #
Products upload and content management: managing product card, product photos and videos.
Logistics and supply organization.
Warehouse storage of products, order management: order processing, packaging, and returns.
Organization of advertising campaigns, promotion tools setup and analysis .
Providing and analyzing analytics, recommendations on sales and pricing policy.
Technical integrations: API integration, automation of orders and stocks.