I haven't received a notification about the product card moderation results. What should I do? #
The result is displayed in your personal account on the Inventory → Manage inventory page, on the Declined by Moderation tab.
If the product has not passed moderation, you will see the Отклонён модератором (Rejected by the moderator) message in the Status column. To see why the request was rejected, hover the coursor over its status.
Why didn't my product pass moderation? #
Make sure that you have provided all the necessary documents. The list depends on the product category. Also check that the product name, its description, and images comply with the design guidelines. Information about the product must be accurate and clear to the customer.
Learn more about working with products and requirements to them
Why can't I edit a product? #
If the card editing button is inactive, this means that when uploading the product you have linked it to the description of a similar product that is already being sold on Ozon. Cards of such products can't be edited.
To make changes, create a new product.
What certificates do I need to upload a product to Ozon? #
The list of documents depends on the product category to which your products belong. Some products require certificates confirming your right to sell brand products, as well as quality certificates.
Learn more about sale restrictions
How to view uploaded certificates
Another seller copies my content, what should I do? #
First of all, check the Settings to make sure that you have a ban on copying your product cards enabled.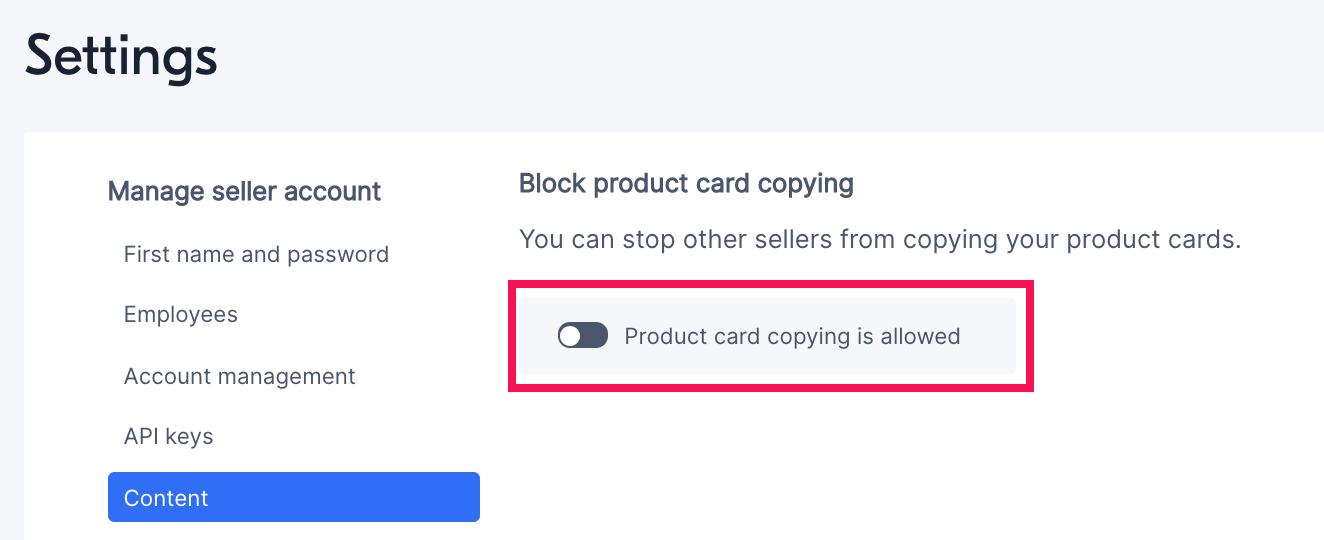 If the ban is disabled, turn it on. After that, other sellers will not be able to copy your content.
If the ban was enabled, but the product cards are still being used by another seller, contact out support team. We will look into the situation, and if we confirm the copyright violation, we will block the products of that seller.
What documents do I need to confirm the product's quality? #
Products quality is confirmed by a declaration, a certificate of conformity, a voluntary certificate of conformity, or an exemption letter. RF Government Regulation No. 982 determines which products require documents confirming their quality.
What is an exemption letter? #
This is the official response of the Rosstandart local branches and certification bodies to a request about whether products are subject to mandatory certification or declaration.
How do I get the documents confirming the product quality? #
These documents can be obtained from an accredited certification center.
To do this, apply for documents and provide company documents and product samples to the certification center.
What documents do I need to issue for a specific product? #
RF Government Regulation from December 1, 2009 No. 982 determines which products are subject to mandatory quality certification and which document must confirm it.
If you do not upload documents for products in these categories, these products will be blocked. Ozon may also request documents from you for products in other categories. Make sure to provide them within three working days after receiving the request. Otherwise, we will block your products until we receive the documents.
Which brand products can be sold immediately, and which require additional permission to be sold from a brand representative? #
If you purchased the product from the copyright holder or from another person who purchased this product from or with the consent of the copyright holder, you can sell it without additional permission.
If you purchased the product not from the copyright holder and not with their consent, you must confirm your right to use the brand by a license agreement concluded with the copyright holder.
What documents do I need to provide if the product does not require certification? #
You need to provide an exemption letter. Upload it to the Inventory → Certificates section.