Storefront is your store's page in the Ozon mobile app and on the website. You can use this page to promote your store for free, tell about about interesting offers, promotions, or promoted products. Customers can go to your storefront from the Stores page, PDPs, or your store card.
By default, your store doesn't have a storefront. You can easily create it, and you don't need any special knowledge or skills to do that.
What a storefront looks like #
There are different storefront designs for the mobile app and the website.
Benefits #
Attracts customers' attention. Banners and blocks with promoted products will clearly display your store's promotions and best available models, as well as help you focus the customers' attention on specific products or categories.
Easy to setup. No help is required to manage your storefront design: add blocks, change background images, and select products.
Requires no extra expenses. Your storefront allows you to create a store in your corporate style at no cost, with no additional fees or payment for clicks.
Create a storefront #
Go to the Settings → Storefront page, click Create storefront and start creating your storefront.
Step 1. Fill in the general information about your store #
Decide on a store name and subtitle visible to Ozon customers. In the subtitle, briefly describe your store to help the customers choose it.
Add your logo, an icon that matches your store's business field. The logo should not belong to another company or brand.
Logo requirements: JPEG or PNG format, 200 × 200 pixels.
Choose a background for your store's header or upload your own background image.
Background image requirements: JPEG or PNG format, 750 × 456 pixels.
Before saving, you can check the storefront in the preview area on the right.
Step 2. Add banners and promo products #
In the Storefront builder section, add blocks for product promotion: banners and promo products. Banners are suitable for promoting a single product or category, while promo products are the best option for promoting from 4 to 20 products. Add at least one banner and one promo product block.
Banner requirements:
for the website: JPG format, width: from 1,300 to 1,426 pixels, height: 300 pixels, no more than 350 KB;
for the mobile app: JPG format, width: 750 pixels, height: from 192 to 480 pixels, no more than 75 Kb.
You can edit the layout of banners and promotional product blocks on the storefront using the

button. To delete a block, click

. All setting changes will be promptly displayed in the preview area.
Step 3. Publish your storefront #
When you're done creating your storefront, click Publish storefront. After that, the storefront will appear on the Ozon website and will be submitted for moderation.
Moderation process #
General information about your store: name, subtitle, logo and background image, as well as banners must be moderated. The moderation takes 1 day. The banner and title will successfully pass moderation if they meet the requirements specified above. After that, the status of your content in your profile will change to Moderated.
If the moderator rejects:
At least one element from the general product description—the logo and background will be replaced with the default logo and background, and the store name will be replaced with your company's legal name.
A banner—it will be disabled.
If an element was rejected by the moderator, you will find a list of requirements that were violated in your personal account, under the corresponding element. Correct the element to meet these requirements and click Save changes. The element will be sent for re-moderation. After successful moderation, it will appear on the Ozon site.
How to edit your storefront #
You can edit the published storefront any time. Make changes to any element and click Save changes. The edited storefront will appear on the Ozon website. If an element is subject to moderation, it will be submitted for moderation.
Learn more about the moderation process
How to unpublish your storefront #
You can suspend your storefront by clicking Unpublish in the Publish Storefront section.
Store card #
The products that are displayed on the store card in the

Stores

section are selected automatically from the most popular offers.
In addition to the storefront, Ozon customers can also view the store's card that contains its logo and some of its product offers: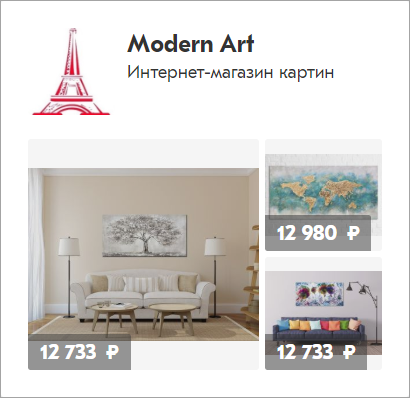 The store card can be found on the Ozon homepage and on product category pages. Clicking on the store card will open its storefront.
Products for the card are selected automatically, depending on the section where it's shown:
"Stores" section: the three best-selling products. To display the store card on the Ozon homepage, a store must have at least three products.
Product category: the three newest products from this category. For the store card to appear in a product category, the store must be selling at least three products from this category.