When uploading a product to Ozon, specify its brand in the name and in the Brand characteristic. This will allow the product to:
be higher in the Ozon search results;
get into the brand filter on the website and in the app;
get more trust from the customers.
How to specify a brand #
You should specify the brand when uploading the product:
In your personal account #
You add the brand to the Characteristics tab at the second stage of product uploading to Ozon. Enter a name in the Brand field and select the one you need from the list. If several brands use the same name, choose your brand focusing on the logo or product category in the drop-down menu:
If you have several products, specify the brand for each of them when creating.
If your product doesn't have a brand, select the value with the No brand name.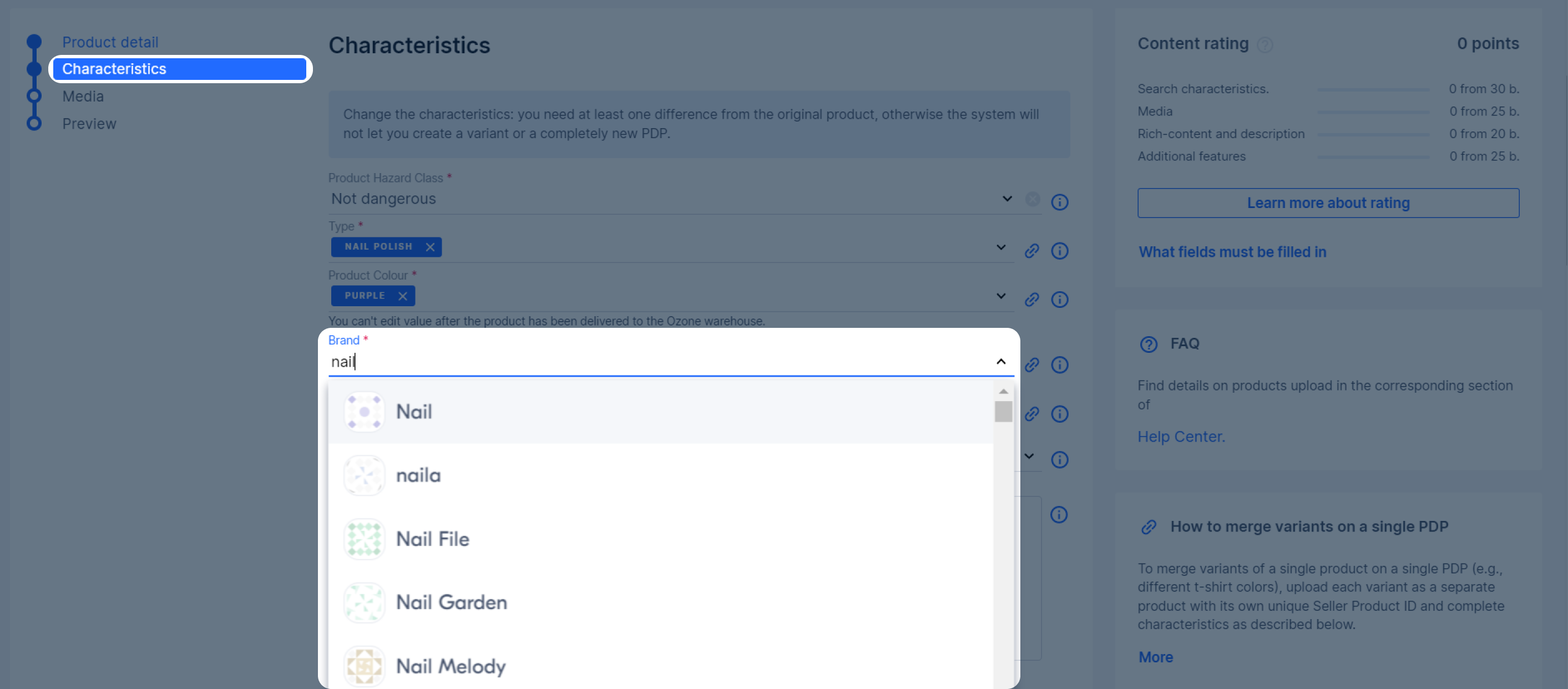 Via template #
If you upload products via template, fill in the brand for each product in it. If your product doesn't have a brand, enter No brand.

How to create your brand on Ozon #
If you didn't find your brand in the list, you can create it. To do this, contact support: Content / Working with the product card → Create/change a Brand.
It is forbidden to create brands:
duplicating existing ones, including consonant ones: "Apple", "Appel";
with the form of ownership in the name, for example, "SP" or "LLC";
with the site address in the name.
Such requests will be rejected.
To upload some products, you need certificates confirming the right to sell brand products. If you upload such a product, first add the brand certificate.
Brand account #
If you are a copyright holder, you can sign up in the brand account–a quality control tool for products and brands sellers on Ozon. After signing up, you will be able to:
view all brand products presented on Ozon;
get acquainted with the list of brand sellers on the marketplace;
leave complaints about illegitimate products or unscrupulous sellers;
analyze customer reviews and respond to them on behalf of the official brand representative;
launch and set up promotions on branded products, increasing conversion to purchase.
You can represent several brands on Ozon.
A brand representative can be any legal entity that has documents confirming ownership or trademark protection. If the brand isn't registered in Russia and has no official representatives or copyright holders, sellers can place its products on the site if there are documents for the right to sell.