This is the placement of your promotional materials, which you coordinate with an Ozon manager. Requests let you use marketing tools outside your personal account without concluding an additional contract. You pay when the service is provided. The amount will be specified in the act of provided services as part of product promotion services.
The Marketing requests tab will appear on the promotion campaigns page after the first request is created.
Services examples #
Photo studio services. Our team of experienced stylists and photographers will create content of any purpose for you.
Placement options from media-kit: stories on the mobile app main page, banner blocks, direct communication via push notifications and email, etc.
Placement options on themed landing pages: Black Friday, 11/11, New Year, etc.
Video consultations: a tool that will help you answer customers' questions in a live stream, as well as help them choose products from your inventory.
Ozon Media-kit #
Ozon Media-kit is a document that summarizes the main data about the company and its audience, as well as marketing and advertising services.
Examples of services from Media-kit:
Advertising support and promotion on Ozon: product promotion, media advertising, brand zone, special projects, etc.
External traffic: video streaming, direct communications, etc.
Package offers: Global Promo, Ozon Card.
Additional services: marketing analytics, research, design services.
The Media-kit is presented on the page for review and has no legal force. The cost of services is agreed by the parties when ordering the service. You can order the service from media-kit via marketing requests or by contacting the Ozon manager.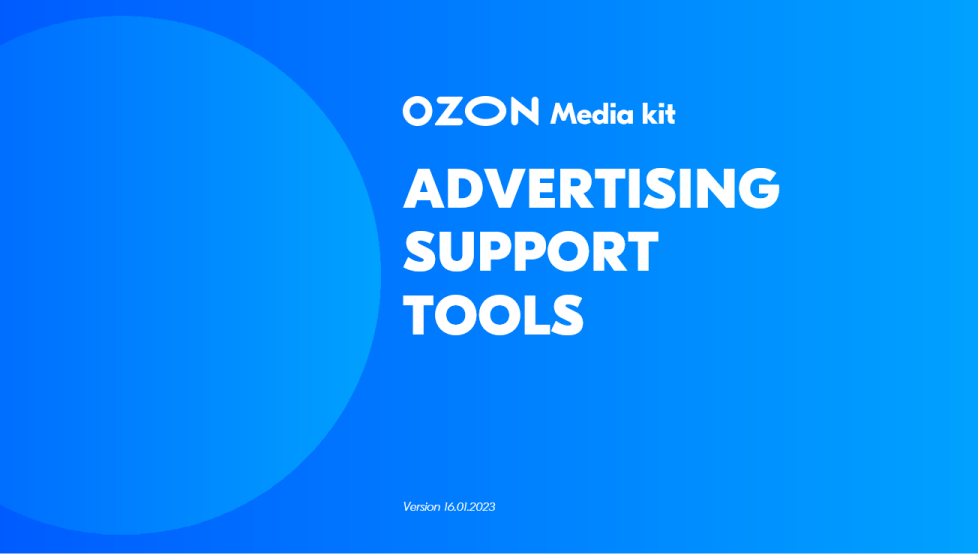 Create a marketing request #
If you haven't yet submitted a marketing request, contact us. Click

in the bottom left corner of your personal account and select Create a request. Select the Advertisement → Marketing request subject.
In the message, specify the following:
the necessary service type,
starting placement budget,
advertising campaign dates,
the list of products to be promoted.
An Ozon manager will contact you to clarify the details and create your first request.
After that you will be able to create the requests in your personal account: in the top menu, go to the Promotion → Stencils → Marketing requests page. Click Create a request. Send the filled in request and wait for the manager's response within five business days.

Confirm a marketing request #
When you've discussed the details, the manager will create your request. It will appear on the Marketing requests tab on the Marketing requests page.
If you agree with the terms, click Confirm in the line with the new request.
If you don't confirm the request before the start date, its status will automatically change to "Rejected".
Statistics #
To get a report on marketing requests, contact the manager.