You can sell products without uploading quality certificates for them, if they aren't subject to restrictions. However, in this case Ozon may request documents from you, and you'll have to provide them within three working days after receiving the request. In case of failure or refusal to submit the documents, Ozon reserves the right to suspend the sale of affected products until the documents are provided. To sell the rest of the products, you'll have to fulfill the requirements specified in the link above.
You can view products without certificates in your profile. To do this, in the Products and prices → Quality certificates section click Products without certificates.

To save the list as an XLS file on your computer, click

.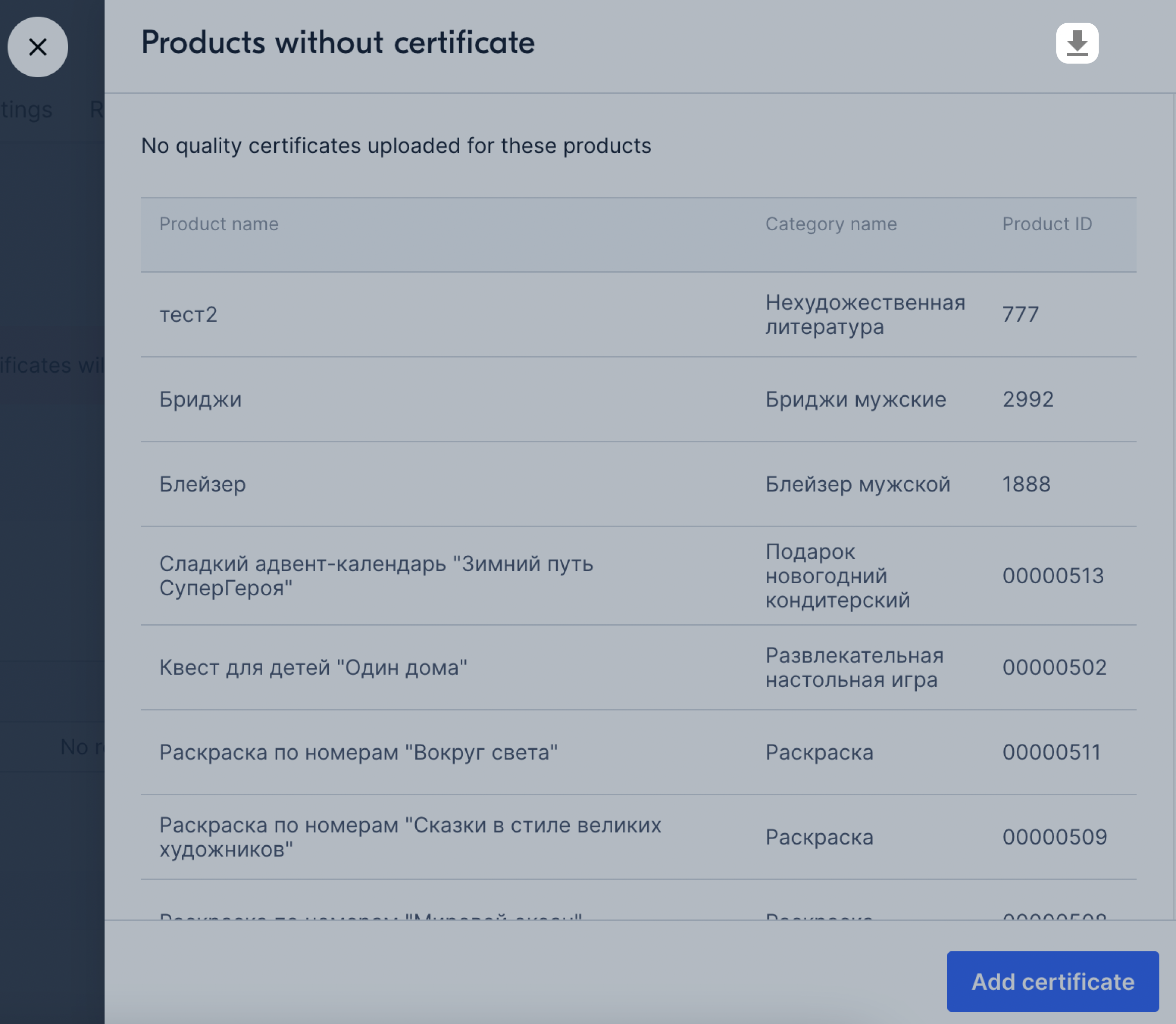 Uploading a quality certificate #
Go to the Products and prices → Quality certificates section and click Add certificate.

Fill in the form. Specify:

document name for future reference,
document and compliance type,
document number and expiration date.

All information must match the original document.

Add a photo or copy of a document in the Scanned copy of certificate section. If the document has several pages, upload all of them. Copies or photos must be of high quality and legible. The seal and signature must be visible.

In the Products section, select the products the document is valid for. You can add products manually or upload in an XLS file. When using an XLS file, indicate the Product IDs exactly as those in your profile.
Once uploaded, the documents will be checked by Ozon's quality control department. They check:
the compliance of a document copy with the data provided,
the copy's quality, for example, signatures and seals visibility,
the document's completeness,
the document's validity in the Russian Federation,
the document's validity period,
the document's presence in the unified register.
All non-compliant documents will be rejected. In this case, the certificate will be assigned the Rejected status. Hover over the status to see the reason.
We may ask you to provide certified copies of documents confirming that the quality of the products meets the mandatory requirements. In this case, you'll have to submit the requested documents to Ozon within three working days from the date of receiving the request.
Viewing the uploaded certificates #
You can view the uploaded documents for the products with certificates. To do this, click on the certificate number → View in the product line.
You can use filters to search for a specific certificate: