The search helps customers find the desired products. The search result position of your products can be influenced by:
Working with the PDP.
Using the Search promotion advertising campaign.
Rate #
Search promotion can not be paid for with advertisement bonuses.
The rate is calculated as a percent of the price at which the user bought a product after all discounts had been applied and bonus points written off. You define the rate for each product individually.
The rate written off for the order can be lower than the value you specified in advertisement settings. We calculate the minimum required price considering the rates of competitors and the compliance of your product with a certain search query.
What orders are considered as orders from the search #
An order will be classified as an order from the search or category, if the user:
clicked on the product in search results or in a category;
added it to cart or favorites within 24 hours;
bought this product within 21 days.
How to launch an advertising campaign #
Go to the Advertising campaigns page and click on New campaign.

Select Search promotion.

Enter the name of the advertising campaign and click on Create a campaign.

In the upper right corner click on Add products.

Select the products you want to add to the advertising campaign. You can search by product name, Ozon ID, SKU or use filters. If a product can not be selected, then it is already participating in another campaign.

You can add or remove products at any time, as well as transfer them from one advertising campaign to another.

Click on Add products to campaign.
The advertising campaign will be activated. To raise your product in the search results, increase the rate.
How to set up a rate #
The higher the product in the search results, the higher is the probability that the customer will see it. Therefore, we recommend increasing the rate when launching an advertising campaign. The allowed increment rate is 0.1%.
The rates get updated in real time, but it can take up to 10 minutes to apply them.
To set a rate for a single product, click on the rate for the desired product on the campaign page, enter the new value and click on Apply.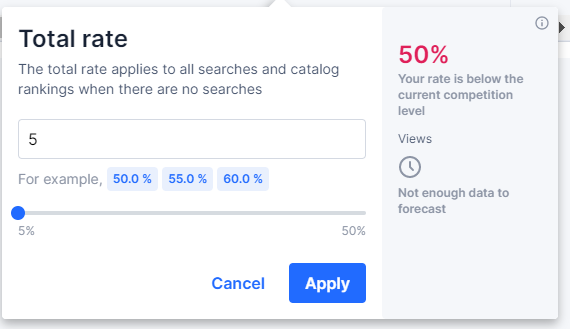 To set a rate for a group of products, select the desired products on the campaign page and click on Set rate. Specify the common rate and click on Confirm.

Statistics #
To download a report on orders:
Go to the Advertising campaigns page and click on Download a report on orders (Скачать отчёт по заказам) in the Search promotion tab.

Select the required period and desired grouping: by days, weeks, or months.

Click on Export to CSV.
Useful links #