Ozon can accrue bonus points for participation in events and surveys (1 bonus point = 1 ruble). Bonus points can be spent on advertisement campaigns and can not be exchanged for money. Information on events and initiation of surveys is sent via e-mail and posted at account home page. Banner example: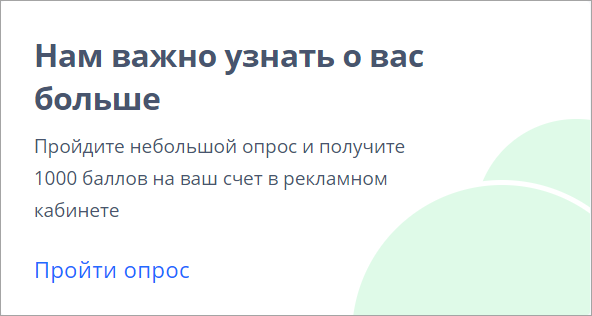 Accrual and disposition of bonus points #
After participation in an event or survey, bonus points get accrued to your account automatically or after using a promo code. Bonus points can be spent during their validity period.
If you have bonus points, they are spent on advertisement first, and when all bonus points are spent, rubles are used. Bonus points get written off on active campaigns every day. Based on the results of reporting period, you only pay the amount spent in excess of bonus points.
If you have bonus points, when downloading a report, the cost of advertisement will be specified at the campaign's page in TOTAL line including the spent bonus points.
Transactions with your bonus account: Writing off–automatic disposition of bonus points for active advertisement campaigns; Adjustment–accrual or disposition of bonuses by an advertisement platform. The bonus points are not written off in this case, if the accruals are incorrect.
You can view the transactions with the bonus account and the amount of bonus points at Advertisement page.

To learn the history of accruals and dispositions of bonuses and the termination date, click My bonuses.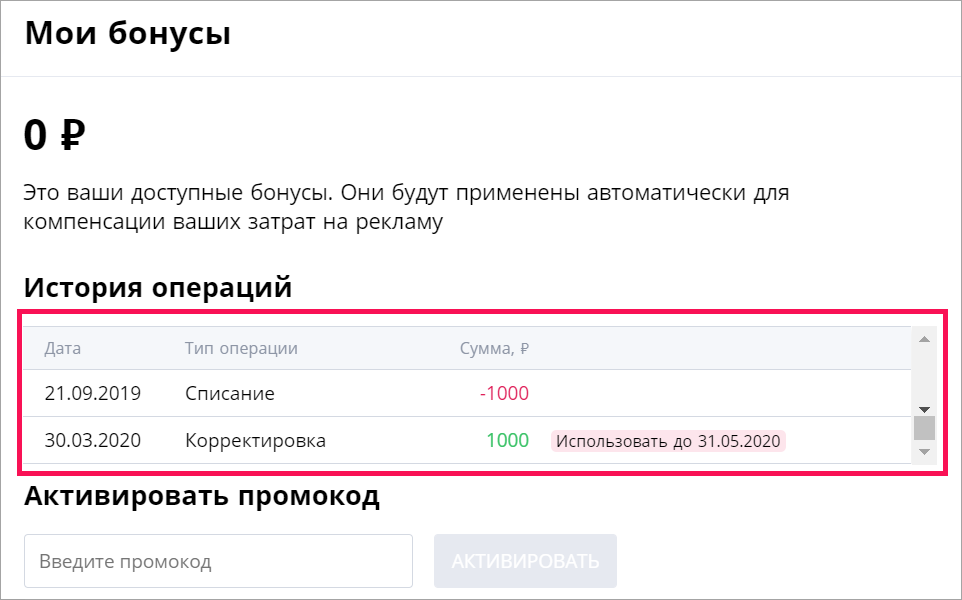 Promo codes #
You can get a promo code with bonus points for participation in events or surveys which you can spend on advertisement. Some promo codes have a validity period and activation conditions, for example, some bonus points can be spent on the first advertisement campaign only. A promo code can not be activated after the activation period expires.
To activate a promo code, click My bonuses at Advertisement page. Enter the received promo code in Activate a promo code field and click Activate. Now, bonus points will be spent on your advertisement.
If no bonus points were accrued #
If you received no bonus points or promo code after participation in an event or survey, write us: go to link or click a message item in account at the bottom of the screen and choose Create an application. Select the "Advertisement campaigns" subject.
Useful links #