Banners are used to advertise your products, brand or promo at product description page or in category menu in mobile app. You will pay for every 1000 banner views.
Set up an advertisement campaign #
Step 1. Fill the main parameters of advertisement campaign #
To create a banner that will be placed at product description page or in category menu in mobile app, go to Advertisement section and click Create campaign → Media advertising → Banners.

Specify the name of advertisement campaign.

Specify the date of advertisement campaign or select an endless campaign.

Specify budget restrictions:

Budget per day—a maximum amount you are ready to spend every day on advertisement campaign. Minimum budget–500 rubles per day. If you spend less, only the spent amount will be written off from your account.
Overall budget is a total amount you are ready to spend on advertisement campaign. When overall budget is over, display of advertisement will stop.

The budget can be changed later at the campaign page.
Daily budget is spent uniformly throughout a day. If the amount is insufficient for continuous display throughout a day, we will automatically suspend and re-launch the advertisement campaign. This is required to uniformly distribute the budget throughout a day. There is a minor delay between the time of banner display and the time when the money is written off. Therefore, there may be some budget overrun–up to 10% of your daily budget. We recommend setting the budget slightly lower than you are ready to spend per day.
Click Create campaign.
Step 2. Upload and send a banner for moderation #
Click Add banner.

Select:

Location.
Platform—website or mobile app. If mobile app is selected, banners will be shown in mobile version of the web-site.

If required, select the categories to be displayed.

If the banner is to be shown to certain users, activate the Targeting toggle switch. Select the toggle switch for setting the target users:

By authorization and select:

Non-authorized—to show the banner only to the customers not authorized at Ozon.
Authorized—to show the banner only to the customers authorized at Ozon.

By location and select:

Regions where the customers who will see the banner are located.
Warehouse location. The banner will be visible to buyers in the regions where the products from selected warehouse are delivered.

By segments, and select categories of customers who will see the banner.

If several categories are selected, the banner will be shown to the customers belonging to at least one of the categories.

If both a user segment and regional targeting are selected, the target customers will be selected when these targets coincide.

Upload a banner and indicate the landing page—this page will be opened when clicked.

Specify a rate for 1000 views. The higher the rate, the higher is the probability that the banner will be shown. We recommend specifying the rate based on your advertisement budget. The rate can be changed any time—your banners will start participating in an auction with new rates within 10 minutes.

Click Save and send for moderation. We wil check that the banner meets the requirements–the result will be displayed at campaign's web-site. Normally, moderation takes up to 3 hours.
Moderation #
We check that:
landing page corresponds to banner;
banner corresponds to display area;
image has proper quality;
banner and landing page do not violate any Russian laws.
Banner activation #
After successful moderation, banner will get the status of Moderated. To display it at the web-site or in mobile app, it must be activated. To do this, click

at banner card and select Activate.
Requirements for advertisement materials
Step 3. Activate an advertisement campaign #
Check the advertisement campaign settings. If all is correct, activate the advertisement campaign.
Now your products will take part in an auction and can be shown in advertisement blocks.
Products are selected to advertisement block every time a page is loaded. To make sure your products get into one of the blocks, the advertisement campaign must be enabled.
Advertisement campaign statuses #
Active—the toggle switch is in On position, active banners are displayed. More about banner statuses.
Inactive—the toggle switch is in Off position.
Suspended—the toggle switch is in On position, but the banners are not displayed due to depletion of budget or expiration of placement period.
Archived—banners are in archive and get automatically deleted in 30 days after archiving.
Banner statuses #
Draft—you added a banner, but did not send it for moderation.
Active.
Suspended—you deactivated display of banner.
Declined—banner did not pass moderation.
Outdated—banner with outdated parameters. Banners with such a status can not be sent for moderation.
How to change advertisement campaign settings #
You can change the following in advertisement campaign page status bar:
daily budget,
overall budget,
number of views by one user,
active period,
Statistics #
Profile contains statistics on advertisement campaigns. You can see statistics on costs and views (current day and total) in status bar of campaign's page.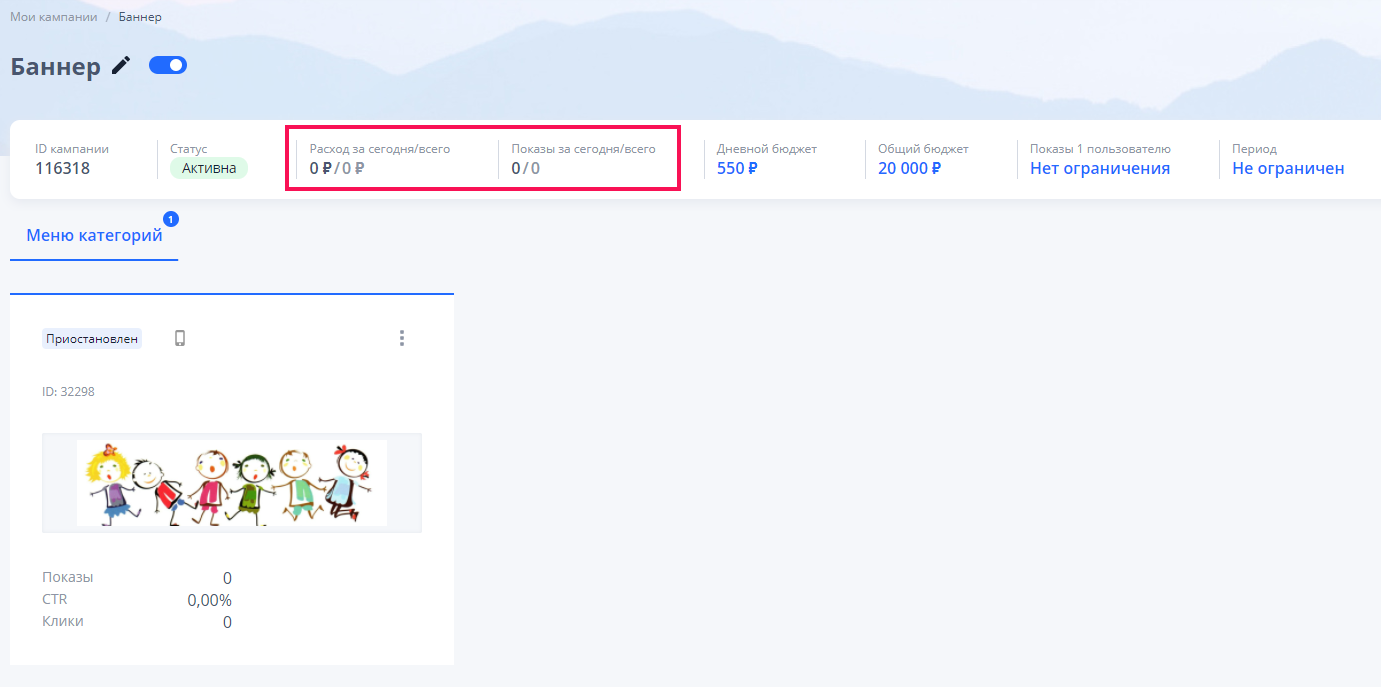 You can download detailed reports in CSV format (data is available for 12 months). To do this:
Click Download statistics at the page of advertisement campaign.

Select the target period for statistics in the calendar.

In Grouping field, you can specify how to group the data: by days, weeks, or months.

Click Export to CSV to generate a report.

Then click an icon with an arrow to open the Latest reports section. It contains completed reports requested by you over the current day. Click the required report file to download it to your PC.
You can view the information on displays, clicks and CTR in the CSV file.
Explanations for some fields:
Page type–display area.
Platform–website or mobile app.
Display prerequisite–a category showing the banner (if placed at product description page).
CTR (click-through rate)—ratio of clicks to the number of views.
Coverage–number of unique users who saw the campaign.
We recommend noting the number of views and CTR. High CTR shows that customers are interested in your banner and that it gets clicked often. If such a banner has a low number of views, it gets into advertisement blocks insufficiently often. To correct this, we recommend increasing the rate–the banner can win more auctions and will be displayed to users more often. If there are many views, but the CTR is low, we recommend reducing the rate.
Rates and posting locations #
Rates for 1000 views:
| Location | Platform | Minimum rate |
| --- | --- | --- |
| Product description page | Web-site and mobile app | 70 rubles |
| Category menu | Mobile app | 200 rubles |
Increment—1 ruble.
Incorrect rates get adjusted automatically. If the value:
Is less than minimum, it is raised to minimum.
Has incorrect increment, it will be rounded off downwards, e.g., 520.7 rubles will be rounded off to 520 rubles.
View the banner at Ozon web-site or in mobile app #
You can see what the banner looks like at Ozon web-site or in mobile app:
Select the tab with banner location.

Find the banner and make sure it is displayed at required platform.



How to check a platform



Click three points at banner card and select Edit. The following will be specified in Platform field:

Desktop—for Ozon website.
Mobile platform—for mobile app.

Click three points at active banner card and select View. If a banner is displayed:

At Ozon website—a page with the banner will open.
In mobile app—Ozon page will open.

To view a banner, copy the link and send it to mobile app, e.g., through messenger or via email. Open the link in mobile app.

If there is no View button in the menu, this means that the banner is inactive and is not displayed at the website or in Ozon mobile app. Therefore, it can not be viewed.



If the banner is not displayed at web-site or in mobile app, make sure that:

the campaign is activated,
effective campaign dates are set,
the banner passed moderation and was activated.
Useful links #