For your products to appear on the Ozon website, they need to be added to the system. You can do this after signing up, accepting the Offer, and activating your account.
For some branded products you have to provide certificates proving that you are authorized to sell them. If you are uploading such a product, please add the brand certificate first.

Learn more about brand certificates and uploading them

The Product Upload in some categories is limited. To get access to these categories, you need to provide the product documents.
Starting March 15, we introduce new rules that limit to PDPs uploading to 300 pieces per day. You can upload no more than 300 PDPs until 11:59 p.m. today and no more than 300 PDPs tomorrow starting from 12:01 a.m. Moscow time. The limit can be increased to 2000 PDPs per day if more than 95% of PDPs have been loaded without rejections in the last 28 days.
How to upload products #
You can:
Add your product to one already available on Ozon. In this case, you don't have to fill in all the information about the product, but only set your price and VAT rate. Your offer will appear on the PDP that is already available in the Другие предложения от продавцов на Ozon.ru (Other offers from sellers on Ozon.ru) section.

If the price you set is lower than the one at which the product is already available, Есть дешевле (Cheaper offer) will be written on its PDP in the catalog.

After uploading, the product will appear in your profile in the Manage Inventory section. If necessary, you can edit its description, except for those characteristics next to which there is a warning that they can't be changed if the product is delivered to the warehouse or ordered by the customer.


Add a new product. If your product is not yet available on Ozon, or you don't want your offer to appear on the PDP of another product, you can fill in its characteristics yourself.
Ways to upload products #
Ozon will block your personal account if more than 85% of uploaded PDPs for the last 20 calendar days don't comply with Ozon requirements.
In your profile: if you have a small inventory, products can be added one by one.
In an XLS file using a template: if you have a large inventory, you can add all products of the same category in a single file at once.
Via API: if you want the product upload to be automated.
Next #
After successfully passing moderation, the PDP will appear on the Ozon website. To view it, click on the link in the Product name column in the Products and prices → Manage inventory section.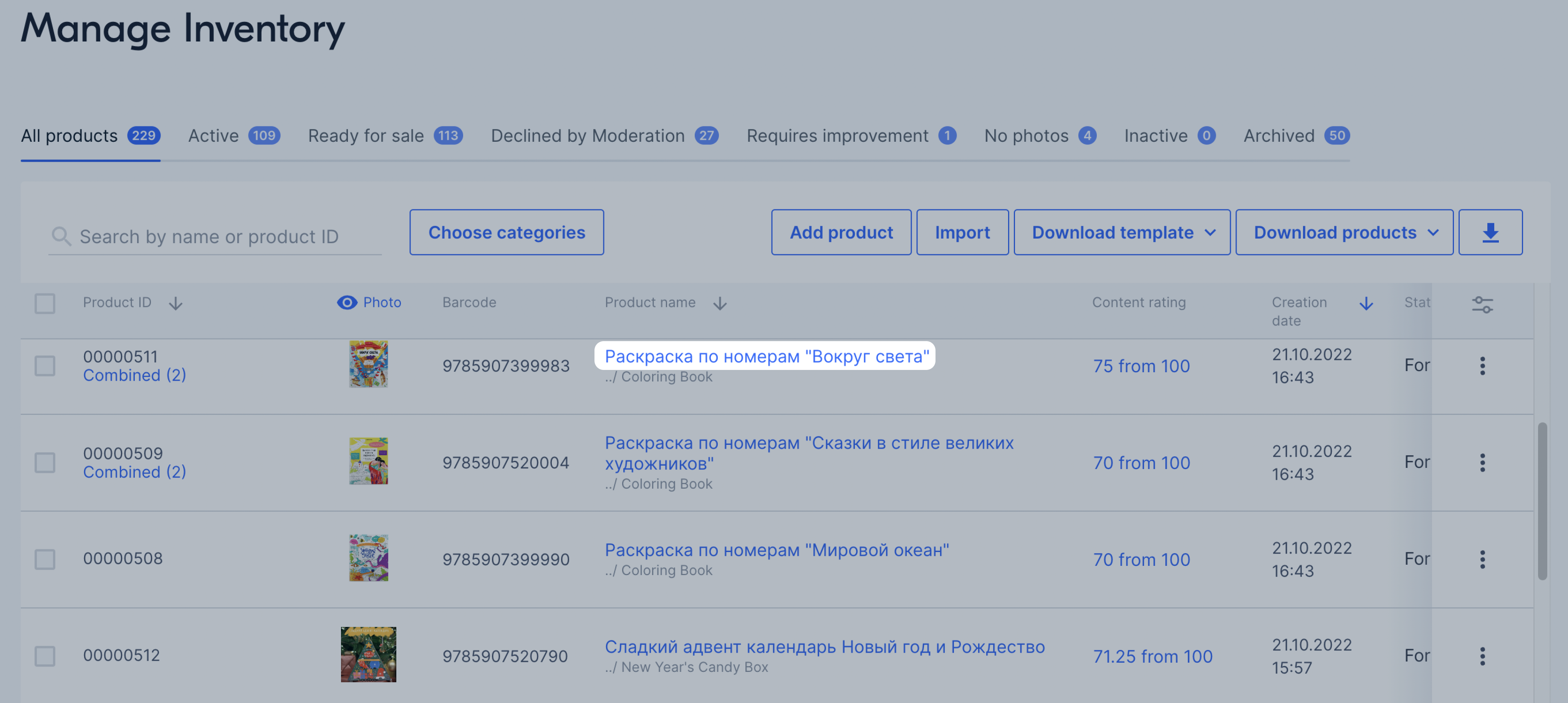 For products to appear on the website:
Customers will see your products and be able to purchase them.
Learn more about product statuses and visibility
If you don't sell a product anymore, you can archive it. It won't be displayed in your profile in the same list as other products.